Harvey's Point Seafood Chowder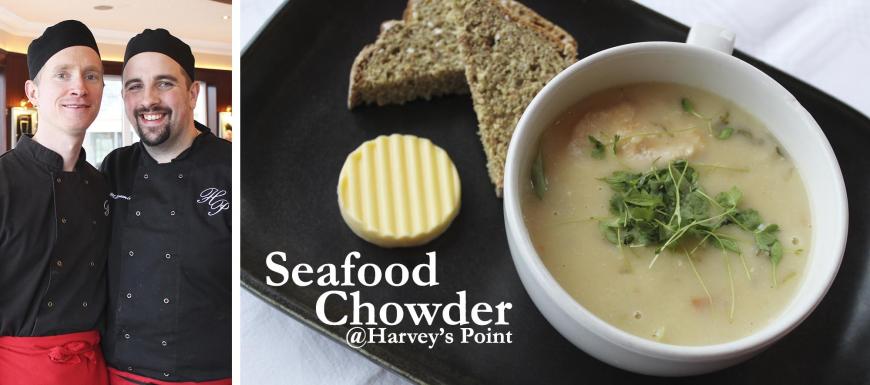 Seafood Chowder with the Chefs of Harvey's Point
Chowder has long been a favourite here at Harvey's Point with staff and guests alike and has remained a seasonal staple on our Menu over the years. There's something about the creamy warmth of Chowder that can instantly make you feel at home.
Every Chowder is a little different depending on who is behind the pot and the Chefs here at Harvey's Point have spent many years tweaking and perfecting our recipe which is by far the most requested dish for our in-house cookery demonstration.
We asked our Executive Head Chef Chris McMenamin and Head Chef Colin McKee to share their recipe to achieve the perfect Chowder
Enjoy!
Ingredients:
1 diced carrot
1 diced celery stick
½ diced leek
½ bulb of fennel
1 white onion diced
20g butter
100mls brandy
50mls pastis
300mls white wine
2 vegetable stock cubes
Corn flour to thicken
75g salmon
75g cod
75g smoked haddock
500 mls double cream
Method:
·       Dice all Vegetables
·       Cut the fish into chunky pieces
·       In a pot cook the vegetables for 1 minute with butter, add bay leaves
·       Add the brandy and pastis and reduce
·       Add the wine and reduce by half
·       Add the stock and reduce for 2 min
·       Thicken with the cornflour and cook on a light heat for 5 Min
·       Add the Cream and finally add the Fish
·       Cook until Fish is cooked through
Taste for seasoning
Serve with a thick slice of Wheaten Brown Bread and Butter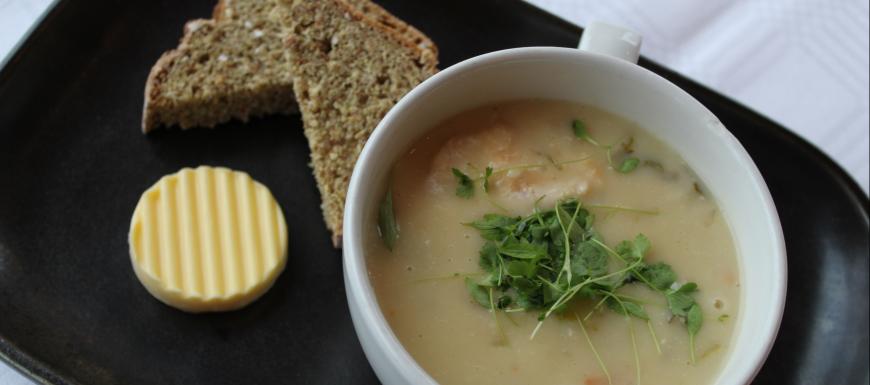 ---