Venison Stew Recipe with Chef Chris
Executive Head Chef, Chris McMenamin shares his hearty Venison Stew recipe 
Venison is a healthy alternative to beef as it is lower in fat. I prefer Venison at this time of year because of its rich gamey flavour and unique taste. When making a good stew you do need a bit of fat so I recommend buying meat from the shoulder, it has a little fat present and has a nice vibrant red colour. Irish venison is best as the deer feed on grass in Spring and Summer, leaving the meat lean and tender. 
Where a lot of home cooks go wrong with venison is overcooking it. The prime roasting cuts of venison are best servved pink, if they are cooked further the meat gets tough. Venison has such a lovely flavour of its own, it's important not to add too many other flavours to the stew. Keep the balance of herbs and spices right and they will compliment rather than overpower the flavour of the meat. 
In my opinion, red Port, rather than the traditional red wine adds a lovely depth of character to the stew. My favourite way to serve this stew is with butter glazed carrots and mashed potato, the richness and softness really work with the venison. Another option is red cabbage which adds a slight tartness to the dish. 
Happy Cooking
from Chris

Venison Stew with Creamed Potato and Butter Glazed Carrots 
Ingredients:
800g diced venison
3tblsp Donegal rapeseed oil
6 carrots peeled 2 diced for stew 4 cut into wedges for glazed carrots
3 celery sticks washed and diced
1 white onion peeled and diced
1 small leek washed and diced
3 cloves garlic finely diced
6 sprigs of thyme leaves finely chopped
300mls red port
2 beef stock cubes
2 star anise
1 tsp ground cinnamon
1 tsp Chinese 5 spice powder
20g caster sugar
3tblsp gravy powder
Seasoning
6 large rooster potatoes peeled and cut small
50mls single cream
50g salted butter
 
Serves 4 to 6 people
 Method:
1.      Seal the venison in a smoking hot pan with half rapeseed oil for 3 minutes
2.      In a separate pot sweat off all the vegetables, garlic and thyme with the remaining oil for 3 minutes
3.      Add the venison, port, star anise, ground cinnamon, 5 spice powder thyme and beef stock cubes
4.      Bring to boil and reduce to a low heat
5.      Add water to the level of the ingredients and simmer for 3 hours
6.      Add the gravy powder and sugar and taste for seasoning and simmer for a further 20 minutes
7.      For the creamed potato put the potatoes in a pot and boil them in water until cooked
8.      Strain the water and add the cream and half the butter
9.      Add salt and pepper
10.  Mash until all lumps have been removed
11.  Boil the wedged carrots in lightly seasoned water until soft
12.  Strain off the water and add the remaining butter to the pot
13.  Melt it over a high heat
14.  Add the cooked carrots until nicely glazed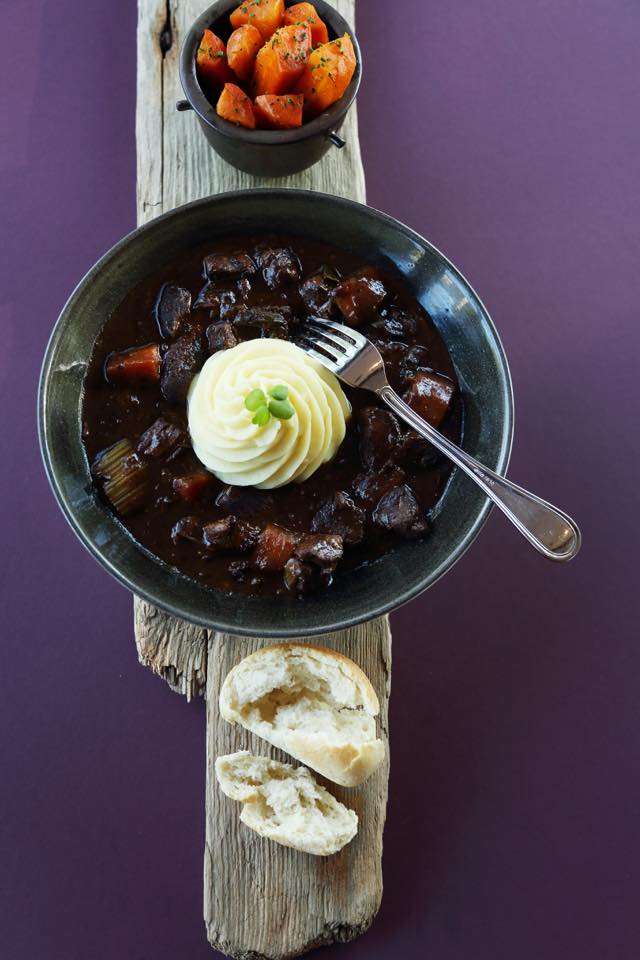 ---