Espresso Panna Cotta Recipe
Posted on: 2021-03-24 14:12:54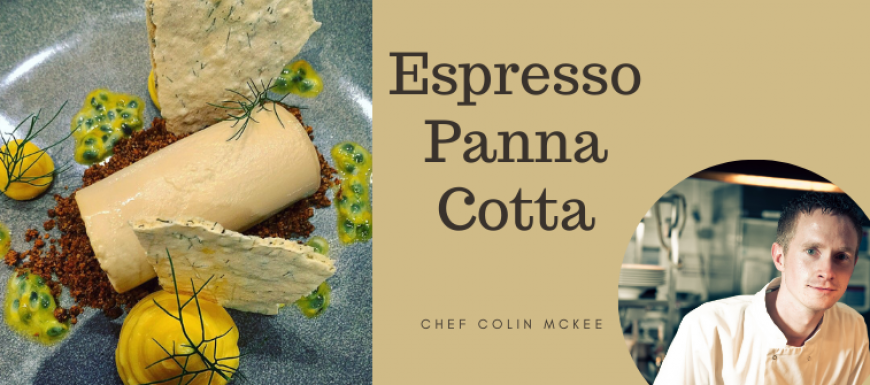 Espresso panna cotta, passion fruit curd, fennel meringue on a bed of coffee crumbs
Serves 4
Espresso panna cotta- 
Ingredients:
250ml milk
2 shots of espresso coffee
150g Caster sugar
Seeds from 1 vanilla pod
4 gelatine leaves soaked in cold water
250ml of double cream
Method:
1. Bring milk, coffee and vanilla to the boil
2. Add the sugar and dissolve
3. Add the soaked gelatine and mix well
4. Add the cream and strain through a fine strainer
5. Pour into desired moulds to set
Passionfruit curd-
Ingredients:
1/2 leaf of gelatine soaked in cold water
35ml passion fruit purée
25g sugar
1 egg yolk
1 small whole egg
20g cubed butter
Method:
1. Place the passion fruit purée in a pot together with the sugar, egg yolk and whole egg
2. Bring to the boil, whisking continuously until it thickens, almost jelly-like
3. Remove from the heat and mix in the soaked gelatine
4. Add the cold butter and mix well
5. Pour into a piping bag and refrigerate until needed
Fennel meringue-
Ingredients:
2 egg whites
120g castor sugar
1/2tsp star anise powder
20g chopped fennel herb
A pinch of cream of tartar
Method:
1. Preheat the oven to 100 degrees Celsius
2. In a mixing bowl, mix the egg whites until foamy
3. Add the cream of tartar and whisk until soft peaks
4. Gradually add the sugar and continue to whisk at a medium-high speed until stiff peaks are formed
5. Gently fold in the star anise powder and chopped fennel
6. Spread out evenly on a lined baking tray
7. Cook for approximately 1 hour until crisp
8. Store airtight
Coffee crumb-
Ingredients:
30g butter
25g ground almonds
35g plain flour
5g barley malt
25g brown sugar
5g freshly ground coffee
Method:
1. Mix the butter and barley malt together until well combined
2. In a mixing bowl, mix all dry ingredients together and add the butter a bit at a time
3. Rub with your fingertips until a fine crumb is formed
4. Chill for 2 hours
5. Preheat the oven to 155 degrees Celsius
6. Spread on a baking tray lined with parchment paper and bake for 15 minutes
7. Leave to cool and store airtight
For garnish-  fresh passion fruit seeds and fennel sprigs
Plating up-
In the centre of a plate, place a neat spoonful of the coffee crumb. Demould the panna cotta and place it on top of the crumb. Pipe 4-5 dollops of the passion fruit curd around the panna cotta and plate. Gently break the fennel meringue into medium-sized pieces and rest them on the curd and panna cotta. Garnish with the fresh passion fruit seeds and fennel sprigs and serve.
Enjoy and let us know if you try out this recipe!  
---