Pizza Pasta Bake Recipe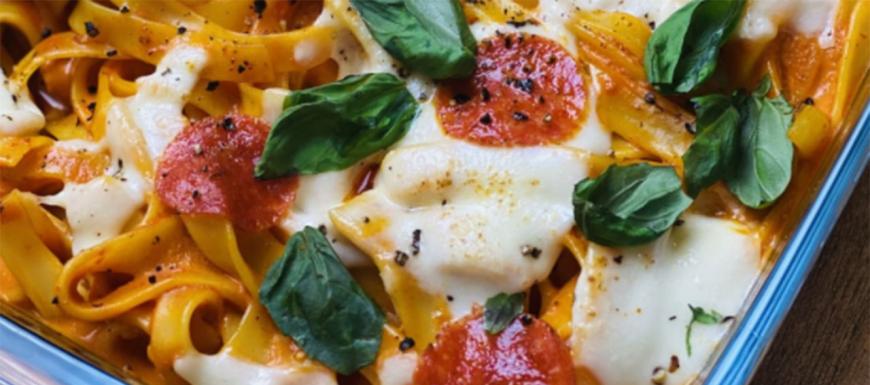 Pizza Pasta Bake - Chef Daniel Lambert
As seen on Ireland AM 
Chef: Daniel Lambert
 
This dish has all the flavour of an Italian pizza while in a lovely pasta bake for all the family to enjoy!
.
Ingredients:
200g Tagliatelle Pasta
170g Cream Cheese
50g Cherry Tomatoes
50g Tomato Paste
2 tbls Olive Oil
Sea Salt
Black Pepper
Fresh Basil
25g Sliced Buffalo Mozzarella
5g Pepperoni
2 tbls croutons
Method:
1) Cook pasta for 5 mins in salted boiling water.
2) Cook all ingredients besides the pepperoni and mozzarella in a frying pan/pot.
3) Pour the sauce over a heatproof oven dish.
4) Add the pasta to the dish and mix well with the sauce.
5) Spread out the pepperoni, croutons & mozzarella cheese on the pasta tray, top with cracked black pepper and basil, bake @180C for 5 mins until the cheese turns golden brown.
Allergens: gluten, dairy, egg, lupin.
---